Many homeowners really love the idea of getting a new bathroom upgrade including a brand new vanity. If you are shopping around for a new vanity for your household, one of the considerations you're going to have to think about is selecting a color.
Finding the right color doesn't have to be all that difficult because there is an array of wonderful colors that appeal to every different type of temperament of the homeowner.
Depending on your taste you will be able to select a color that will go with your decor and your mood. If you decide that the color you have selected it's not what you want to keep after you've installed your vanity, natural wood vanities make it easy to select a high quality paint to repaint the surface of your vanity any number of times that you wish.
About Bathroom Vanities
A bathroom vanity is a cabinet of sorts that usually has a sink or several sinks attached to the top of them. These sinks are used for hygiene routines and other purposes on a daily basis in most bathrooms.
There are other features of bathroom vanities, including mirrors and drawers, that are used to store supplies such as hygiene products, towels, washcloths, and other items.
Some bathrooms feature different types of faucets including chrome, brushed bronze, brushed nickel, or other materials that accent the decor of the vanity and the bathroom.
Bathroom vanities are usually painted in the vanities featured here using 8 stage priming and painting process that includes each finish being primed and painted individually in eight stages for superior water resistance.
Materials Used in Vanities
There are a wide variety of different types of materials used in vanities. Some vanities are made out of fiberglass or acrylic, and yet others are made out of natural wood and wood products such as MDF panels.
In vanities made with natural wood and wood products, these can be easily repainted and take on a whole new look anytime that you wish. 
Other materials that are used in vanities include different types of metal used in the faucets. Certain types of faucets will use either chrome or brass or nickel, and sometimes copper. Faucets are used for hygiene purposes which is one of the main functions of a vanity.
Mirrors are usually made out of glass and other materials and are attached to the top of a vanity or on the wall above them. Vanities use all kinds of different materials to achieve different appearances.
The vanity you select in the materials that are used in its construction will be a matter of taste when choosing them. Finding the right vanity for you also involves selecting the right color. Finding the right color for your vanity can be a challenge for some people, so we have assembled a guide for you to know more about selecting the right color for your vanity and what to do about it if you change your mind later.
Bathroom Vanity Colors
Vanities come in a wide variety of colors, and indeed you can repaint them to be any color you wish. Here we are going to discuss five different colors that are commonly available along with some products that feature them:
Glossy White
Some bathroom vanities look better just in white, and there are  many different varieties of this simple color. Glossy white is the type of white that has a shine to it. The glossy appearance of the color gives it a liquid feel, and is pleasing to the senses for many people.
It is a more subdued type of color rather than stark. It lends itself to more cheerful modes for those who take things like this into consideration. There are several models of vanities that feature glossy white such as:
The Lexora Geneva series features a number of models with a glossy white finish. The Lexora Geneva 30 in glossy white single bathroom vanity also has a white Carrara marble top and white square sink.  Other Geneva models include the 48 inch glossy white single bathroom vanity up to a 84 inch glossy white double bathroom vanity and more.
See more vanities such as the Best Marble Bathroom Vanity.
Navy Blue
Navy blue is a darker color of blue rather than bright. Its subdued nature makes this color ideal for more traditional households or those with conservative taste. Households that have a navy blue vanity will be seen as more serious and less light-hearted or playful. The classic coloring of navy blue lends itself to higher-end bathroom upgrades.
There are several models are vanities that feature in the navy blue color such as:
The Lexora Jacques 102 in navy blue double bathroom vanity with makeup table which also features a white Carrara marble top and white square sink and 34 inch mirror this is ideal for households with extremely large bathrooms.
Other models of bathroom vanities that include navy blue coloring include the Geneva 60 inch navy blue double bathroom vanity with white Carrara marble top, white square sink, and 60 in LED mirror with faucets. This is similar to the 72, 80 and 84 in models, and all of these feature a double sink and are designed for a larger bathrooms.
You can see vanities with other features such as Best Floating Vanities.
Distressed Gray
Distressed gray is kind of an artistic statement for many households, and it's a lighter color with more of a cultural feel. You can find a number of different models with this color in the Lexora collections but they are most mostly offered with the Lexora Jacques collection.
Several models of the Lexora Jacques collection include the 36 in distressed grey single bathroom vanity with white Carrara marble top, white square sink, and 34 inch mirror with faucet, right version. This model also comes in a left version where the cabinet drawers are set at different angles (left or right).
Other models in this series include the 60 in distressed gray double bathroom vanity with white Carrara marble top, with white sinks and 58 inch mirror with faucets. They also come in 72 in 80 in and 84 in sizes.
Dark Grey
Dark grey may seem to be foreboding for many households, but some people really enjoy the color overall. Dark gray lends itself to a somber type of feeling but can be good to produce a feeling of constancy. This color is kind of neutral and it does not evoke strong emotions either positive or negative and may be ideal for those with even temperament.
Some of the models of this color include the Lexora Geneva series such as the Geneva 72 in dark gray double bathroom vanity with white Carrara marble top, white square sinks, and 30 in LED mirror with faucets. This also comes in a 48 inch, 60 in, 80 inch, and 84 inch model.
Check out other vanities such as Best Bathroom Vanity with Linen Tower.
Barn Wood
Barn wood is a material that could be used for cabinets that are made into vanities, but usually it is an artificial color created by paint. The effects of Barn wood are a natural rustic look that is suitable for those people who have positive feelings about country living. 
Those who enjoy the look of Barn wood would enjoy this color in a vanity and it would give a light-hearted feel to any bathroom decor. 
Some of the models that feature barn wood in our collection include the Lexora model such as the Lexora 30 inch rustic Barn wood single bathroom vanity with cultured marble top white square sink and 28-in mirror with defogger. This vanity also comes in 48, 60, 72, 80, and 84 in models.
Repainting Your Vanity
If you have selected a vanity and are tired of the color or simply don't like it after you install, or something changes and you wish to repaint your vanity, selecting a new color and knowing what to do are the next steps.
Selecting a color that will appeal to your senses can be as simple as finding examples of it in other items such as an object of some kind that contains it. In this case, you would just take the item down to the paint store and they will use equipment to match the color. Many paint stores have such equipment, and you can call around to find out which ones do.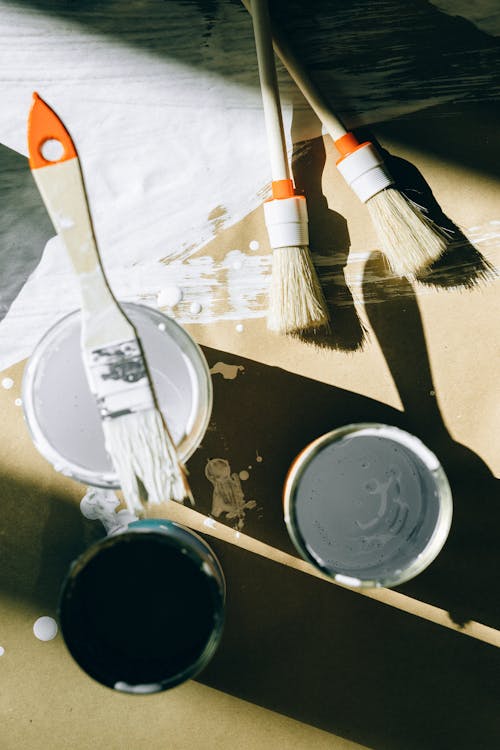 If you are into experimenting with color and want to develop your own color for use with your vanity, you can mix different paints that you purchase on your own to see what kind of final concoction is perfect for you and your vanity.
Spending the time to find the right color can be fun and exciting, and an adventure all on its own. Once you have selected the right color, you will want to purchase quality paint brushes, quality primer to first Prime the surface of the cabinet before painting, and then the final coats of the color that you have either mixed or selected.
You will want to give the vanity at least one coat of primer and at least two to three final coats of the final color. Once you have painted your vanity, you should probably use paint sealer of some kind to lock in the surface of the paint.
The fun part about repainting cabinets for vanities is that you can always change the color after you have grown tired of living with the one you are selected.
When Choosing a Color
Really, choosing a color comes down to your own personal taste or sense of style, and the way you want to express yourself when painting your vanity or selecting it. The fact is, you can always repaint your vanity to another color if you are unsatisfied with the result you have selected.
There may be changes in your life that you want to have a brighter vanity to try to improve your mood on a daily basis. You may decide to have a more classical or high-end color. There could be many reasons you would decide to choose a color, but in the end, beauty is in the eye of the beholder. Selecting your color is entirely up to you and what you feel is going to best accent the decor in your bathroom.
To learn more, see our Bathroom Vanities Guide.